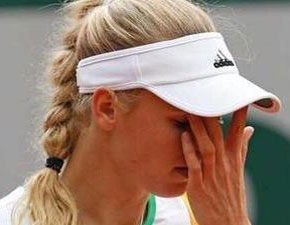 Caroline Wozniacki upset after her shock defeat in the first round at the French Open 2014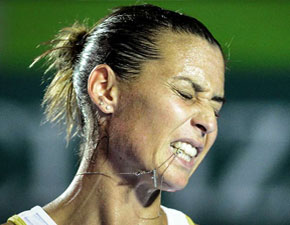 Flavia Pennetta - the firm favourite - loses in the first round at the 2014 Abierto Monterrey Tournament
How To Spot Long Odds With Value
Home Town Heroes: These are players playing in their own country, and preferably nearby their home town. They often enjoy the crowd support (if crowds are big enough), or at the very least may have friends and family in the crowd. They have also likely played at the venue before and are comfortable with their surroundings, comfortable with their diet, and comfortable with communication.
Young Up and Comers: It pays to familiarise yourself with the itftennis.com website as they contain results for matches that just aren't shown on the ATP/WTA sites, or on other comparison sites like matchstat.com. Some of these guys go on to be future Top 50 players, whilst others come out all guns blazing and start to falter when they are challenging to win the set or match. They are doing it the hard way, playing low level tournaments, attempting to make a living and improve their ranking to get in to higher tournaments. They are hungry for the results and don't want to waste opportunities at higher levels vs regular tour players
Wily Veterans: These guys won't be overawed on any occasion, or against any opponent. They are solid enough to capitalise on opponents mistakes as they work themselves in to the game. These guys usually don't have the weapons to hurt significantly higher opponents, but they have a bag of tricks to beat the average players who make a good deal of unforced errors.
The Globetrotter: Outsiders playing an opponent who made a final the week before who may be tired from the extended match play and travel times not giving them enough practice on the court. This strategy often comes out on top when the final was on either a different surface, a different continent, or in harder to reach cities. An example of that is some of the Moroccan clay tournaments which are immediately prior to European clay tournaments, or more recently the exodus from the US open back to tournaments spanning Asia to Europe.
Qualifiers: Similar to above, these guys have often played 2 or 3 matches on the courts at the venue already which may help them start faster if they are playing an opponent who had direct entry to the main draw who hasn't played on the courts yet. There are often players from other categories mentioned playing in the Qualifiers. Imagine your luck when you spot a young up and coming Home Town hero playing in the qualifiers against an opponent who played a tournament in a difficult to reach location the week before! Pay Dirt!
Surface Specialists: You know these guys! The ones that know their limitations and would rather stay in Europe on the Clay than spend needless money travelling half way around the world to play a tournament they are likely to lose in Week 1. These guys often slug it out in Challenger tournaments with other Surface Specialists, or the home town heroes or young up and comers, but occasionally they'll play a run of the mill higher ranked player who is aimlessly making his way to a tournament after losing somewhere else, and that can work to your benefit.
The "I Can't Believe He's That Price" Guy: Many a time a punter has been sucked in to a price because it looks substantially better than what they thought it should, or a price that appears so horrifically short that we stay clear at all costs. Sometimes you can find a gem of a price about an opponent, but be careful not to let this result in making yet another deposit to your account.
Birthday Bonanza: Who doesn't feel good on their birthday! Most usually spend it in good spirits with their close friends and coaches. Find a good price about someone on their birthday and get ready to open your presents.
The Loyal Lad: Punters always remember their good wins. Often it will result in a token $10 bet on the player to win. Often however this is misguided logic. There may be laying opportunities here if you can identify that exchange punter who is being loyal, and not wise with his money.
The Market Mover: The strategy of following the money is one that often proves to be wise. But there's a big difference between a Challenger Player firming from $2 into $1.75 as opposed to a grand slam player firming the same odds. The size of the market will determine how much weight you should apply to the move.
Laying Llodra: Left Handed Michael Llodra, the man who has withdrawn from matches more than 30 times in his career. If he drops the first set, you have to like his chances of either losing the match, or withdrawing.