Rugby Related Articles
The tale starts off with a little boy in school in England, tired of just kicking the ball around, picking up the ball and running with it in his hands. All to the shock, disgust and horror of his fellow teammates and opposition. How dare he do something so unthinkable! So unimaginable!
Well, the boys name was William Webb Ellis, the year was 1823 and it all happened at Rugby School in Rugby, Warwickshire, United Kingdom. The game that they were playing was similar to rugby, with the major difference being that, although the ball could be picked up, you were not permitted to run with it.
The game's rules have changed and evolved over the years since then, with a try (when a team scores by placing the ball on the ground behind the opponents goal line) actually being worth 5 points, and not 3 as it used to be. Many other changes have also been made to make the game safer, as rugby is a very physical game and many a player has been seriously injured and even died due to injuries sustained during a match. Most of the changes to the rules have thus been made to help protect the safety of the players.
Rugby also has a couple of variations that is played around the world. Some common ones include the 7-a-side variation, where unlike the normal 15-a-side game, both teams only have 7 players. The game is usually also shorter time wise, but is everybit as exciting. Regular 7's tournaments are held on a regular basis worldwide.
Another variation is called touch rugby. Here the players aren't allowed to tackle each other, but rather touch the opponent so as to get him to release the ball. This game is usually more prominent at school level during break times.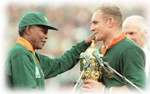 Rugby also has a world cup event which takes place every four years, where 20 of the world's rugby playing nations can compete for the coveted William Webb Ellis Cup. The current format of the tournament allows for 12 of the previous nations who played and finished third or higher in the pool stages to automatically qualify for the next tournament, with the remaining 8 places to be determined by play-offs.
Since the inception of the Rugby World Cup in 1987, there has only been three teams that have won the tournament twice. One being South Africa (1995 & 2007), the second New Zealand (1987 & 2011) and the other Australia (1991 & 1999). England won in 2003 and hasn't been able to repeat the feat yet. Will it be their turn in 2015?
Some of the bets available on rugby include but are not limited to:
Future Bet

With this wager the punter has to place a bet on the team that will win a tournament

Supremacy Bet

The most common bet on matches, the punter has to place a wager on the team that will win the match and by how many points

Outright Winner

Very much the same as the Supremacy Bet in the sense that the punter has to place a wager on the team that will win a match

First Try Scorer

As the name suggests, the punter places a wager on the team that will score the first try

Total Points Betting

The punter has to predict how many points will be scored in total by both teams during the match. The punter can either bet lower or higher than the sportsbook's value. This bet is also known as an over/under bet